Zodiac Rings
Discover the allure of our Zodiac rings collection - an ode to celestial connections. Embrace minimalist charm with delicate symbols in 18k gold and sterling silver finishes. No matter your star sign, these symbols should reflect your essence and individuality.
Read more
Read less
Discover the allure of our Zodiac rings collection - an ode to celestial connections.... Read more Read less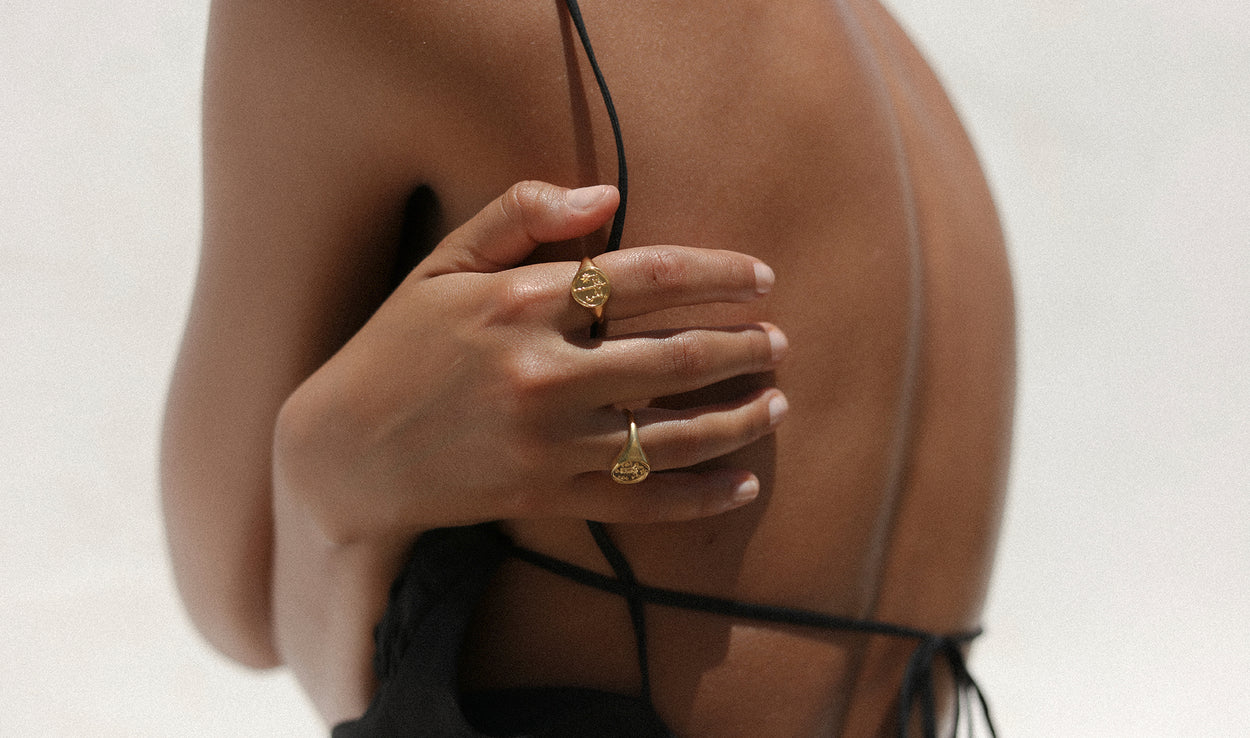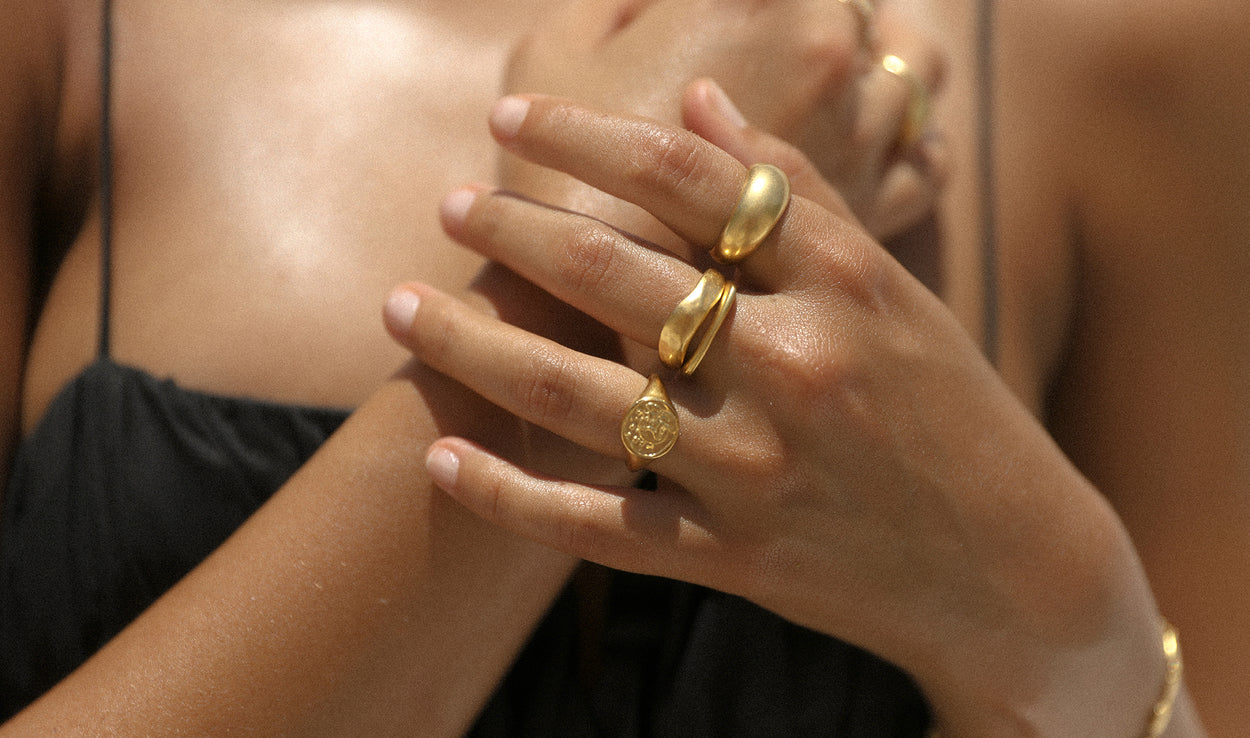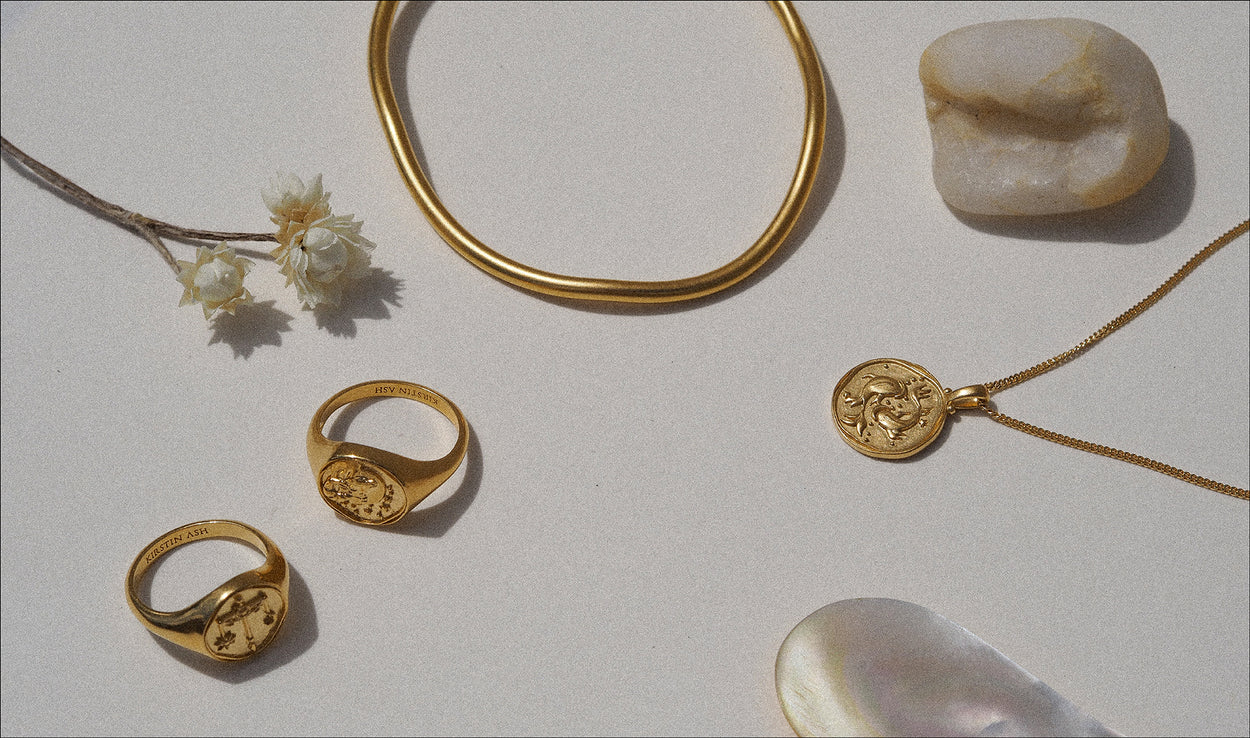 The Zodiac Rings Lookbook
Explore the Collection of Zodiac Rings
Our Zodiac ring collection embraces the spirit of the star signs, offering an ode to individuality. Like other-worldly constellations, each of our star sign rings embodies the unique traits of the zodiac, gracefully woven into their gold and silver designs. This signature collection features a silver Zodiac ring, crafted with sterling silver, and a lustrous gold Zodiac ring with a sterling silver base plated in 18k gold vermeil.
The beauty of these rings lies not only in their minimal designs but in the intricate details that make them truly special. Within the collection, you'll find twelve rings, each showcasing an embossed zodiac-inspired illustration. Whether you like to express your boldness and bravery with a Leo ring, your versatility and vivaciousness with a Gemini ring, or your nurturing nature with a Cancer Zodiac ring, our collection has the perfect piece to help you embrace your true self. 
Our gold Zodiac rings symbolise the richness and strength of your journey with their alluring glow. Meanwhile, for those who seek an elevated minimalism, our silver Zodiac rings offer a timeless appeal. 
In the spirit of effortlessness, our Zodiac signet rings add a poetic touch to your everyday style. Each piece is thoughtfully coupled with a hand-painted card, revealing the inner personality traits that define your star sign. Feel the warmth of the cosmos embracing you, connecting you to the universe with each cherished ring. 
Discover your star sign's story and elevate your style with our Zodiac rings - a seamless union of artistry and authenticity.
Read more
Read less
Our Zodiac ring collection embraces the spirit of the star signs, offering an ode to individuality. Like other-worldly constellations, each of our... Our Zodiac ring collection embraces the spirit of the star signs, offering an ode to individuality. Like other-worldly constellations, each of our star sign rings embodies the unique traits of the zodiac, gracefully woven into their gold and silver designs. This signature collection features a silver Zodiac ring, crafted with sterling silver, and a lustrous gold Zodiac ring with a sterling silver base plated in 18k gold vermeil.... Read more Read less